Civil War – the battle of Southam – 23rd August 1642 – 17th and 18th August 2013
 
One of the first civil war battles was at Southam.
The Battle of Southam was a major skirmish – and took place two months before the more famous Battle of Edge Hill. The wars that followed altered the British way of life and governance forever.
King Charles 1st has just declared war on Parliament. Lord Brooke of Warwick is leading 3,000 foot soldiers and 400 horsemen of Parliament's army towards Coventry; they march into Southam, ransack the Reverend Holyoak's house (a Royalist) and are billeted in the town's Inns and private houses for the night. Two miles away, along Welsh Road East, the Earl of Northampton with 800 horsemen and 300 foot soldiers from King Charles 1st's Cavaliers are encamped.
The alarm is raised! The soldiers prepare for battle, and early next morning the armies confront each other in the fields around our small market town.  There follows four hours of cannon & musket fire, cavalry charges and deadly hand to hand combat with swords and pikes.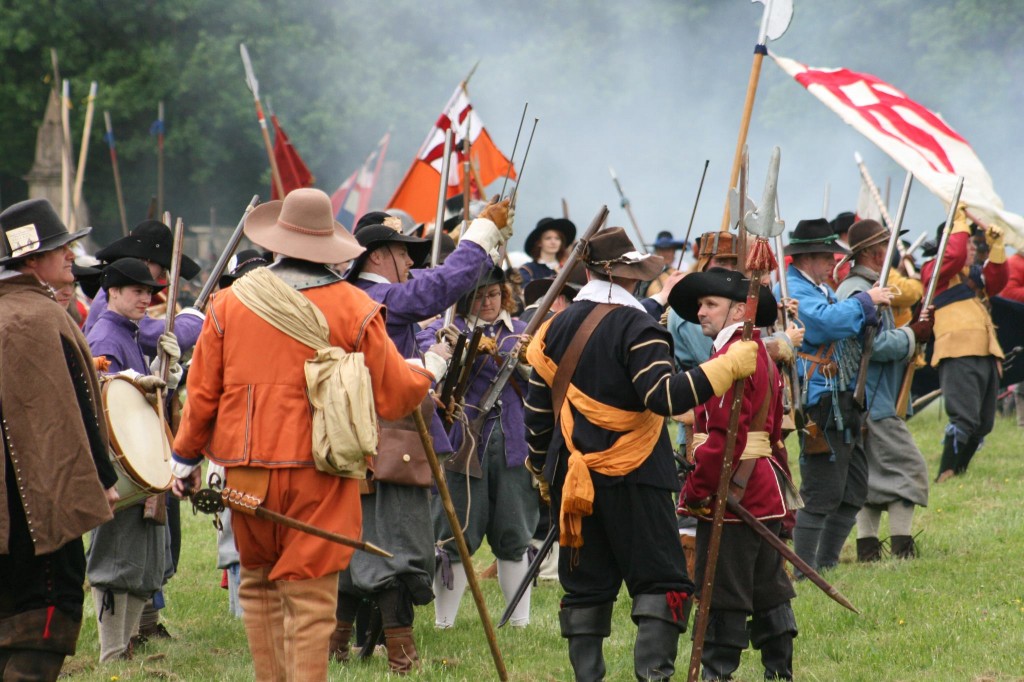 On the 17th and 18th August 2013 – There will be a Civil War 'living history' event in Southam town centre inspired by the Battle of Southam and events that took place in and around the town during that momentous period of England's history.
This is what you can expect to see…
• Arrival & Parade of Civil War infantry, cavalry and artillery, allocation of soldiers to billets.
• Battle Re-enactments with foot soldiers, cavalry, cannon-fire, muskets, pikes and drums on the way to, and within Southam's Recreation ground
• Cameo Re-enactment Scenes with Chorus to include: "The Searching of the Reverend's House and Mistreatment of his Wife", "An Interrupted Church Service", "The Disobedience of the Bell-Ringers", "King Charles's Proclamation from the Manor House"
• 17th Century Food, Drink and Music with roasted pig, beer, cider and song smiths Souvenirs and Southam Tokens as minted at Southam's Olde Mint
• Replica Costumes and photograph opportunities with soldiers and their camp followers
• War Games, Competitions and Children's Activities to inspire, educate and entertain
• Demonstrations and Displays of traditional rural crafts, including a celebration of needlecraft to mark the 10th Anniversary of Southam's Historic Embroideries.
https://www.farmcottages.com/wp-content/uploads/2013/08/sealed-knot-1024x682.jpg
682
1024
Fiona Walker
https://www.farmcottages.com/wp-content/uploads/2016/11/Alt-Logo-AKF-styled-amp-UC.png
Fiona Walker
2013-08-09 18:02:21
2016-10-25 20:17:31
Civil War – the battle of Southam – 23rd August 1642 – 17th and 18th August 2013